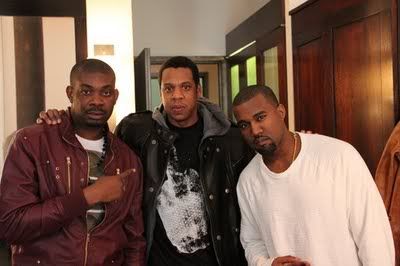 Don Jazzy was on Beat 99.9FM Friday August 19 for his first radio interview in almost 5 years, where he was interviewed by OAP, Toolz.
How did you come up with the 'Oliver'song?
I was upset at somepoint when people were saying that D'banj and Wande Coal have slowed down in their career. I still want more for them.
Some ladies were mentioned on D'banj's new song Oliver, who are they?
Genevieve, Beyonce and Omotola.
You have so many fans hailing you right now on Twitter
I love everybody; I love
my fans on Twitter and Facebook
I suggest u throw a party
I'm not quite sure I will throw a party.
You have over 100,000 thousand followers and you don't want to throw a party?
I'm not sure about that now.
Where did music start for you?
I started music in the church. In the choir at some point. (Pauses) you know what? I don't want to spill everything yet. I'll be writing an autobiography, my dad and I are workingon it. There's no name for it yet but he has called it 'The Making of a Don'.
When will the book be coming out?
It's coming out next year.
Let's talk about Enigma. You asked rappers to record their song versions and submit to u
It was crazy. I was expecting to see about a hundred responses but I ended up seeing 2000
Talking about the Oliver dance competition, who are the judges?
For now, apart from myself, there are no other judges.
When is the closingdate?
It's been crazy though. I will give outa 3-day notice to when it will close.
So let's move away from D'banj for a while. What are the other Mo'Hits members up to?
Well, Wande Coal has been recording in the studio and will bedropping a few songsthis year. We are all concentrating on D'banj for now though. When his (D'banj) album drops, there'll be time for the others. Dr. SID is performing in different states and has also started to learn music production, he isn't doing badly too. D'Prince 's album has been completed since God knows when. We will be releasing it at the right time.
How do you deal with negative comments?
Just like the way Jesus handled them, like Jay-Z handles them, like Kanye, like Beyonce . The thing is that I get more love than hate, so when the negative ones come in, I try to find out why they do that. I block some (followers on Twitter) when I feel they have nothing to say.
Tell us more about D'banj's album; will it still be titled 'Mr. Endowed'?
A couple of tracks have been recorded. You can take the previously released singles as mixtape materials. The timing is what is most important. The album name ' Mr. Endowed 'might change. It has to do with what comes up from now till then. Everybody should please be patient. I know you are all excited.
You were recently nominated at The Headies 2011 in the 'Producer of The Year' categoryalongside Cobhams, Samklef, Jesse Jagz and J Sleek, how do you feel?
Was I nominated? I didn't know. Thank you so much. I'm honoured. Really, Cobhams and I shouldn't be nominated. I like Samklef and wish he wins, everybody please vote for Samklef.
Who do you think is the next big thing in the music industry?
Wizkid.
But Wizkid has emerged already and even has an album, who else do you think is the next big thing?
For now, nobody.
So whose music do you listen to nowadays?
I listen to almost everybody, Wizkid, 2face – I can kill for him, Choc Boyz.
What about the Female artistes?
Tiwa savage is good and she has given out so much. Waje is a heavenly singer.
Tell us about working with Kanye West
I'm very picky with music but Kanye is worse. At times I regret I played 'Scapegoat' and 'Give it to me' for him because he keeps referring to them when I make beats for him (Laughs). He likes 'Entertainer' too.
How about Jay Z, have you done anywork for him?
Well, Jay Z recorded on a couple of beats that didn't make the 'Watch The Throne' album but I'm glad 'Lift off' did. Over 70 songs were recorded for that album, 'Lift off' had been done a long time ago.
Have you done anysolo production forJay Z?
No, not yet.
When will you produce for Beyonce, when will she say 'It's Don Jazzy again?
Beyonce will say it soon. Kanye West has already said it a couple of times.
If you had the chance to work with any other foreign artiste, who would it be?
I would like to work with Rihanna. I like the vibe she gives off, it would be nice to work with her.
Which other artistes have you done tracks for in the US?
I don't want to talk about songs I've produced that have not been released because they might never be released and Nigerians will then think I've been lying.
What Nigerian influence have youtaken over to NewYork?
Well I've taught Kanye how to eat pounded yam but he hates pepper.
Apart from making music, what other businesses do you run?
I'm into real estate and of course the Koko enterprises.
Source: Linda Ikeji